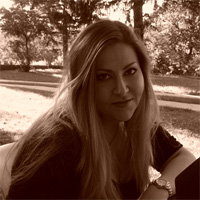 The Italian based high-end label Hilda Maha was launched by Central St Martin's graduated Hilda Maha, having had strong requests from international boutiques after graduation and winning international competitions as well as being selected for a collaboration with Italian factory Friulprint presenting a personal collection for them at Premiere Vision February 2009 and September 2009.
Brought up in Italy but with Albanian origins Hilda Maha moved to London to pursue the desire to design then moving back to Italy where the collections are entirely handmade. Print designs are all created by Hilda and all materials used are the very best luxurious sourced mainly in Italy then in the UK and France, with careful attention to details the line fuses sharp tailoring with romantic fluidity, to highlighting the beauty of the female body.
The brand's signature is it's bold use of colour and the exclusive and experimental 3D prints that never fail to impress, bringing about a playful edgy twist and contemporary point of view that is at the same time timeless.
Hilda's mixed background of Albania, Italy and UK is at the core of her inspiration and there is always a reference to the very rich albanian folk costume tradition and old family photography from her aristocratic family history that goes back documented to 1280.
The Hilda Maha woman is not afraid in taking risks and posesses both style and substance, making her strength and embracing all that being a woman entails empowering her.
For private clients Hilda Maha also offer a made to order, one offs, bridal and made to measure service.
Featured in magazines such as Vogue UK, Vogue Australia, Elle UK, Elle Norway, Marie Claire, Flair Deutschland, Vision China, S Magazine, InStyle and Grazia and books Young Blood Annual 2009, La Poesia della Moda, LOGOS PUBLISHING 2012 and has been chosen by many celebrities on the red carpet and on both everyday and important occasions.